Natural Stone Grey/Black/Red/Yellow/Basalt/Granite Kerbstone/Tumbled Cobble/Flagstone/Curbstone/Cubic/Paving/Paver Stone for Driveway/Garden/Grey/Black/Red/Yellow Color Environmental Granite Curbstone/Cube/Cobble/Cubic/Paving Stone/Paver Stone/Kerbstone for Driveway Construction Project/Driveway Granite Cobble/Cube/Cubic Paving Stone / Paver Stone in Grey/Black/Red/Yellow Color for Construction project/ Natural Granite Cobble/Cube/Cubic Paving Stone / Paver Stone for construction project/ Granite Stone Cubestone/Cobblestone/Cube/Basalt/Cubicstone/Tumbled/Sandstone/Kerbstone for Outdoor Garden/Park/Driveway/Floor Tile/Paving/
Granite paving stone cube stone, cubic stone, cobble stone, , stone cube, granite paver stone, curbstone, cubestone, cobble stone, kerbstone, granite cubestone, granite kerbstone, granite step blocks, tumbled stone, Environmental Stone, Cubic Stone, granite cube etc.
Main materials: Grey granite, yellow granite, black granite, red granite, pink granite, etc.
Finishing: Polished, flamed, honed, bush hammed etc
1. The dimension: 100*100*100 mm (other size as the customer's requirement)
2. Surface finish: Natural split. Tumbled
3. Usage: Construction building material, paving stone.
4. Packing: Seaworthy wooden crates with foam inside
5. Payment term: T/T 30% as deposite, the balance against the photos of packing.
6. Delivery time: Within 15 days, need confirm.
100% Satisfaction guaranted: Low prices, High Quality, Fast Delivery.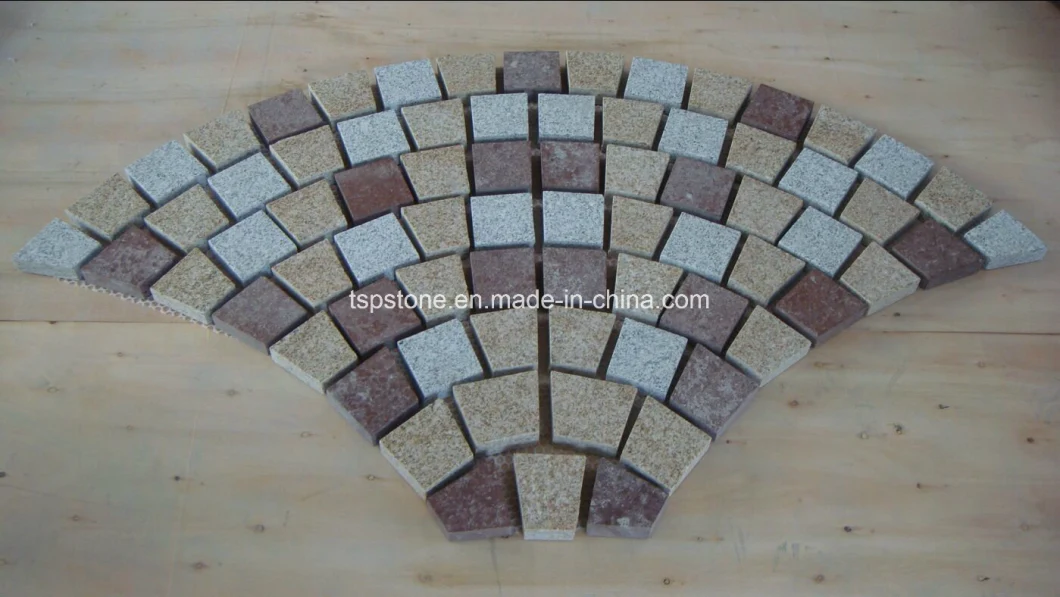 Granite Product
Specification
Granite Tile
305X305, 610X305, 400X400, 600X600, 300X300, 600X300
Thickness
1.0, 1.2, 1.5, 2.0, 2.5, 3.0cm or customized
Granite Cut to size
60 / 120 X 60 X 2 / 3 cm, or customized
Granite Small slab(strip slabs)
180~240 up X 60 / 70 X 2 / 3cm etc
Granite gangsaw slab
240upx 120up X 2 / 3 / 4 / 6cm etc
Granite Staircase
Thread/Step(120~150)X33X2/3cm
Riser(120~150)X(15~17)X2cm or customized size
Cube stone/Cobblestone
10 X 10 X 10 / 5 cm, 9 X 9 X 9 / 5cm etc.
Cube Stone on mesh
70X50(Rectangle shape);
85X50(Sector/Fan shape), Round, or customized
GraniteGardenStone
Table, Chair, Sculpture, Fountain, Flower Pot, Balustrade etc.
Surface Finishing
Polished, Honed, Flamed, Bush hammered, Sandblasted, Pineapple, Flamed and Brushed(Antique), Natural etc.
Chinese Granites
Grey
G602, G603(Padang Crystal), G614(Padang Medium), G633(Padang Light), G654(Padang Dark), G623(China Rosa Beta), G640, G655, G636, G439, G435 etc.
Pink
G681, G606, G617, G635, G648, G657, G687, G663, China Rosa Porrino, H. D Red. etc.
Red
G683, G696, GL Red, G562 Maple Red, Tianshan Red, Porphyre Red etc.
Yellow
G682 Rusty Yellow, Tiger skin Yellow, ZP Rustic, Gold. etc.
Green
ChinaGreen, JX Green, China Ubatuba(China Butterfly Green), Chende Green etc.
Blue
ChinaButterfly Blue, Sky Blue, Blue Star etc.
Brown
G611 Almond Mauve, G634 Mystic Mauve, G664, Leopard Skin, Desert Brown etc.
White
Golden White, Pearl White etc.
Black
Shanxi Black A(without metal dots), Shanxi Black B(with small metal dots), Mongolia Black, G684, China Black(HB Black), Fengzhen Black, China Impala etc.
Others
ChinaTropical Brown, Desert Brown, China Juparana, Spray White, Leopard Skin etc.
Imported Granites
Indian
Black Galaxy; White Galaxy; Kashmir white; Kashmir Gold; Mardura Gold; Sapphire brown; Saphire Blue; Baltic Brown; Tan Brown; Multicolor Red; Indian Red; Paradise Bash; Paradise Classic; India Aurora; Viscount White; Himalaya Blue; Bahama Blue; etc.
Brazilian
Giallo California; Giallo Ornament; Giallo Brazil; Giallo SF Real; Giallo Fiorito; Saint Cecilia; Giallo Cecilia; Giallo Veneziano; New Giallo Veneziano; Ubatuba; Raw Silk; etc.
Norway
Emerald Pearl; Blue Pearl; Labrador Antico
Other
Dakota; Caledonia; Carmen Red; Africa Red; Africa Black Impala; Olive Green; Verde Fountain; etc.;
Granite Countertop
Prefab Countertop
24" X96", 26" X96", 28" X96", 26" X108", 28" X108" etc.
Peninsula
36" X78", 39" X78" & 28" X78" etc.
Island
66" X42", 84" X42" & 86 X42" Island or even bigger
Snack Bar
12" X78" & 15" X78" Island (snack bar)
Vanity top
25" X22", 31" X22", 60" X20", 72" X22" etc.
Other
As customized
Edge finishing
Single: Eased Edge, Bullnose, Ogee, Beveled, Dupont, Bullnose Half.
Double: Laminated Bullnose, Laminated ogee Bullnose, Laminated bevel, Mitered Edge;
GraniteMonument
European
Poland, French, Germany, Austria, Szech, Solivakia, Irish etc style available
American
Upright monument, slant, die, marker style, big monument available