Sunlight Stone supply Hot Sale Luxury Stone Bolivia Blue slabs,Wall Bookmatch Slabs,Sodalite blue granite with good price for your project
Related keyword :Granite floor tile and marble floor tiles,step tile ,cut to size ,granite tile . marble tile
Bolivia blue granite slabs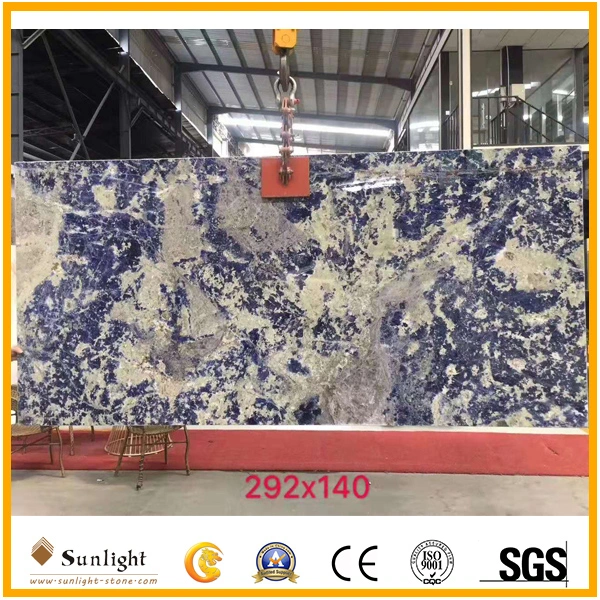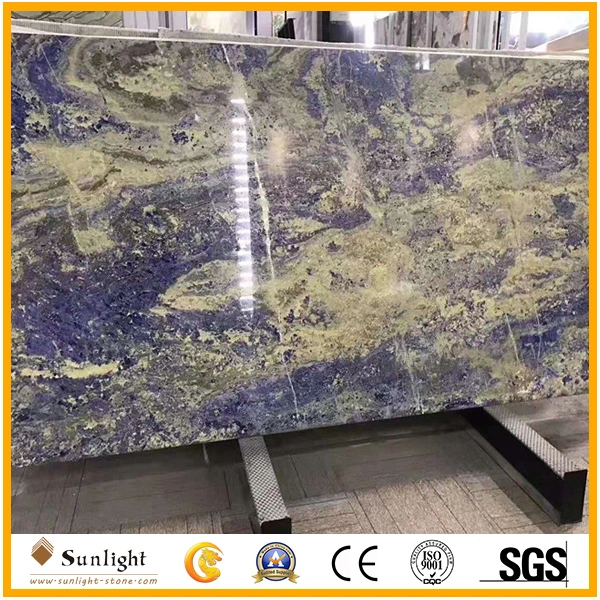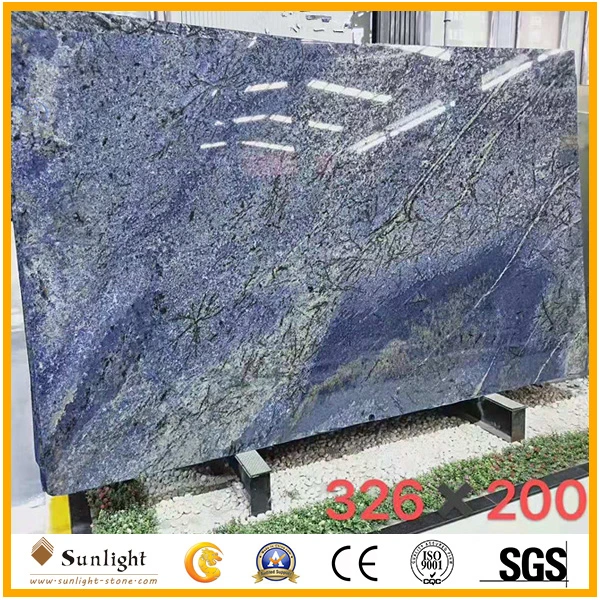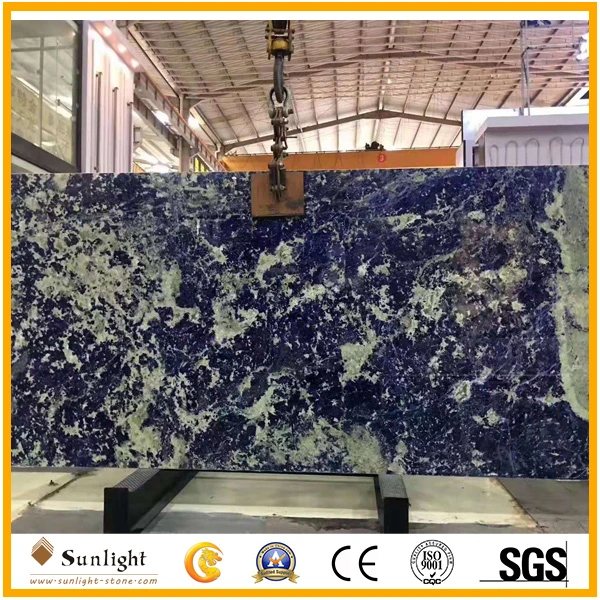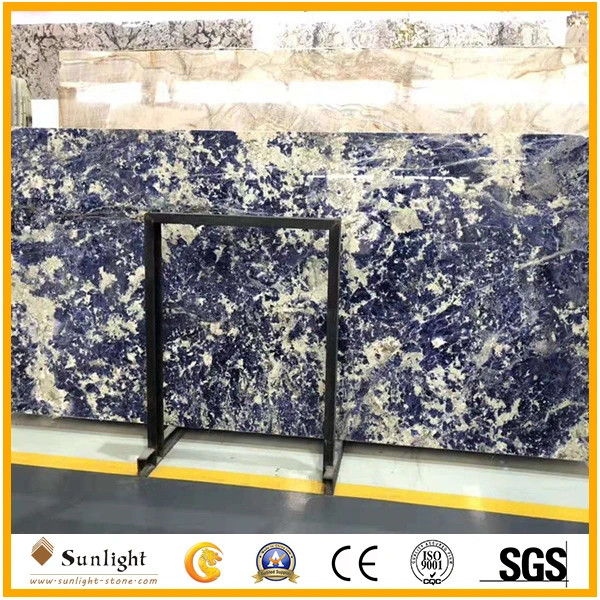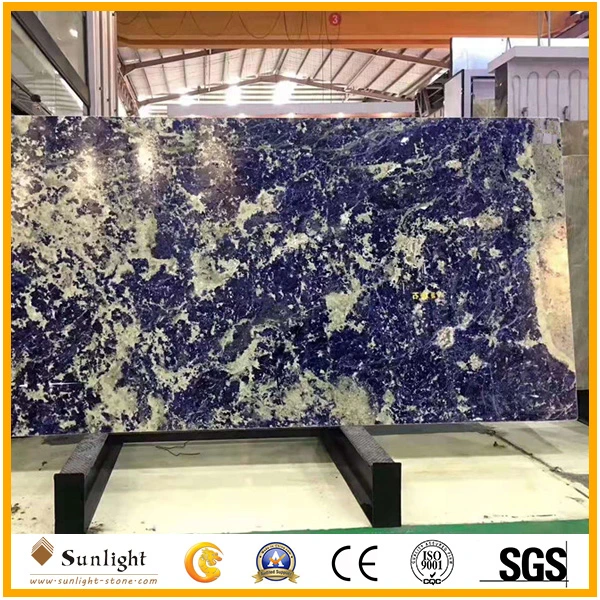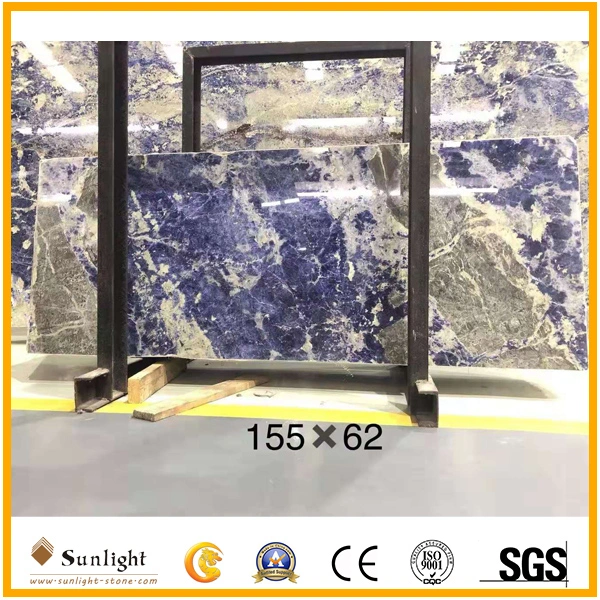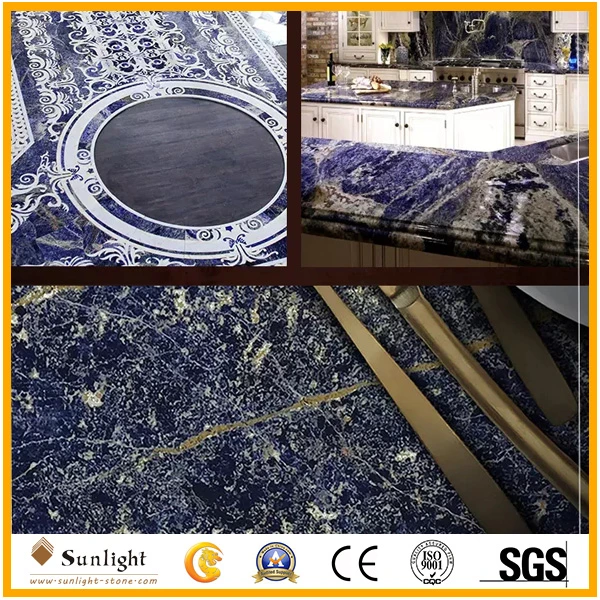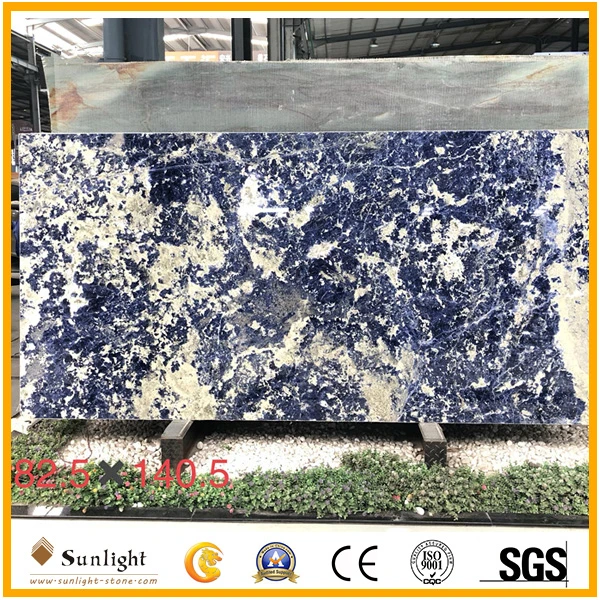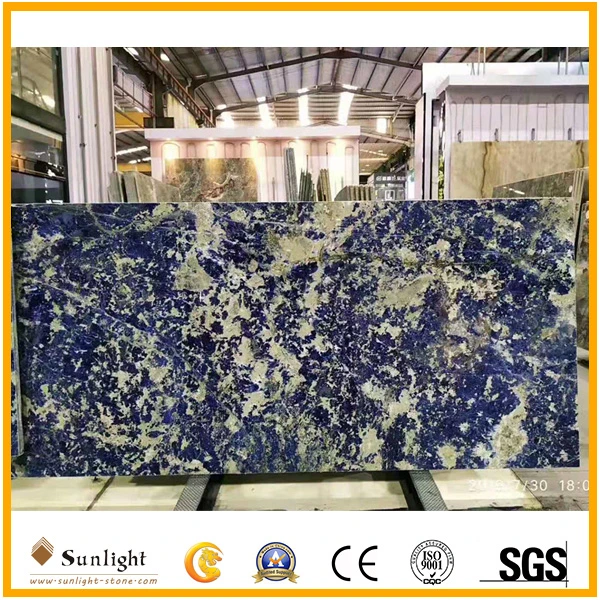 1) size:
Cut-to-size: 300x300mm, 600x600mm, 300x600mm.300x900mm ect
Thickness: 10mm,12mm,15mm,18mm,20mm ,30mm ect
Steps: Step: 100-150*32-35*3cm & 100-150*32-35*2cm
Raiser: 100-150*13-15*2cm & 100-150*13-15*1.5cm
Any other sizes are available as per customers' requests.
2) Surface:
Polished, Flamed,cutting, Honed, Bush Hammered etc
3) Edges processing:
Full bullnose, half bullnose, honed,flamed,polished,bevel,ect or do as per your drawing
4) Quality control:
We have special QC team for check piece by piece to guarantee good quality. For Slabs Polished degree above 90 degree,tolerance of thickness +/-1mm
5) Package:
Protected strongly inside with foam and other soft material,
fumigation woodern crate outside.
6) Lead Time:
During 15 days after received deposit .
7) Popular color:
Other Popular granite :
G562,G623,G617,Viscont white,Ash Grey, Spray white,G682 G633 G602,G603,G636,G654,G681,G684,shanxi black,pearl white granite,Sand Wave,Tianshan Red,
mongolia black granite ,Zhangpu Rust,Basalt Black and Putian Rust,etc. And Tan Brown,Kashmir White,Black Galaxy,Baltic Brown,Carmen Red,Giallo Cecilia Dark/light,Verde Ubatuba,Peacock Green,Blue Pearl.
Other Popular Marble :
crystal white marble,emperador light/dark,cream marfil,Nero marquina,wood grey/white,white carrara, guangxi white ect.
Sunlight Stone supply Various Kinds of Natural Granite,marble,quartz,basalt with good price
Colors
Yellow,Pink,Grey,Dark,White,Green,Blue,Red,Brown etc .
Finished
Polished,honed,flamed,bushhammered,sandblasted, chiseled, natural split,tumbled,pineapple,etc.
Production
tile,slab,kerbstone,cube stone, paving stone, countertop.
Dimension
Slabs
600upx1800upx20~30mm
650upx2400upx20~30mm
700upx2400upx20~30mm
1400upx2400~3200upx20~30mm
Tiles
305x305mm(12"x12")
300x600mm(12"x24")
400x400mm(18"x18")
600x600mm(24"x24")
Thickness
10mm(3/8"),12mm(1/2"),20mm(3/4"),etc.
Countertops
Rectangular Kitchen Countertop: 26" x 96", 26" x 98", 28" x 108"
Curved Kitchen Countertop: 36" x 78", 39" x 78", 28" x 78";
Kitchen Table Top: 72" x 39", 96" x 39";
Kitchen Bar Top: 12" x 78", 15" x 78".
Normal Thickness: 3/4", 1 1/2", 1 3/16".
Edge Finished: Eased, Beveled, Bullnose, Ogee, Cove, Laminated and non-laminated edge etc.
Available
Any other sizes are available as per customers' requests.
Packaging Details
Strong fumigated wooden crates/bundles for export.
Delivery Time
Usually 15 working days after received your deposit
Quality Assurance
During the whole production process, from raw material choosing, fabrication to package, Our quality controller will strictly inspect each pcs and control each process to ensure quality standards and timely delivery.

Mainly Stone supply:
white/grey color:G603, G602, hubei G602, G640(bianco sardo granite), G655, pearl white,
G633, pearl white grantie, white galaxy, kashmir white, gardenia white, bethel white etc.
dark grey/ black color:G654, shanxi black, mogolia black, hebei black, black galaxy, indian black,
G684, fuding black granite, black basalt etc.
red/pink color:G635,G664 (luna pearl granite), G687(bainbrook peach granite), G562(maple red granite), G681(shrimp red granite), G617,G611,G636,maple leaf red, tianshan red, fushou red,
salisbury pink, carmen red, imperial red etc.
yellow/rusty color:G682, zhangpu yellow granite, tiger skin granite,putiang rusty yellow,
tiger skin white, new giallo san francisco, giallo ornamental, samoa, gillo sf real etc.
blue color:butterfly blue granite, blue pearl granite, bahama(vizag blue), voluga blue granite,etc.
green color:chengde green granite, G612, seawave green granite, butterfly green, China green granite, muti-color green, jiangxi green, ubatuba granite, emerald pearl etc.
golden color:giallo antico, giallo fiorito, kashmir gold, ivory india, juparana california etc.brown colortan brown granite, baltic brown granite etc.
Sink, Marble, Onyx, Kitchen sink, Stone sink, onyx Sink, Natural Onyx, Onyx Green, Solid Sink, Basin, Wash Basin, Marble Sink, Stone Basin, Bathroom Basin, granite sink, honey onyx, marble basin, granite basin, yellow sink
Marble, Slabs, Tiles, Flooring, Natural Stone, Worktop, Flooring Tile, Marble Countertop, Emperador Dark Marble, Building Material, Slab, Brown Marble, Flooring Tiles, Stone, Wall Tile, Stone Tile, Kitchencountertop, Natural Marble, Tile, Natural Stone Marble
Sandstone, Steps, Sand Stone, Sandstone Stair, Indoor Decoration, Stone, Natural Stone, Wall Tiles, Paving Stone, Stone Tile, Culture Stone, Yellow Sand Stone, Honed Stone, Tiles, Stone Steps, Sandstone Tiles, Sandstone Slabs, Fasade, wooden sandstone
Our advantage:
1. Competitive Price:
As manufacturer ,we are competitive in price Meanwhile ,as local well known professional good support from other factories .We have been selling to more than 20 countries regularly ,critical market and most price competitive.
2. Multiple Products:
Our products variety is multiple, including Granite & Marble & Quartz Countertops ,Vanity tops ,Kitchen & Bathroom Counter top ,Big Slab ,Project Cut-To-Size, Tile, Stone Sink & Basin, Fireplace ,Mosaic, Paving Stone & Stairs ,Column , Sculpture ,Fountain, landscaping items..., and so on. So, no matter what kind of stone you need, even those which aren't included in our product catalogue, we could find them for you too, which is one of our advantages.
we are the only one company who has the family factories are also into the travertine, sandstone, artificial stones, paver stone, sculpture products and so on.
3. Quality Control
The quality of all products is under our control strictly, so we could make sure that what we offer to you is superior and quality product. From the beginning of production to the examination of finished goods, we all try our best to avoid any mistakes carefully.
4. Competitive Service
Since we specialize in importing and exporting all kinds of stone for a long time, we could provide full-service for you. We respect you, our customers, and your decisions, but it doesn't mean we wouldn't provide good suggestions for you. To concern what you concern; to provide what we should provide.
5. Custom Design
If you couldn't find the special specification you need, please contact us. We could make the specific product you want according your requirements.
Our effort and our clients' support make always the win-win business between clients and us, this makes both go further.
We sincerely welcome new potential clients to contact us, we will not only supply you the right materials based on your required quality with competitive price, but also provide you nice service via quick reaction with constructive solutions.
You will satisfy with us from the beginning to the end!.
About us
Xiamen Sunlight Stone Co., Ltd is located in Xiamen City, Fujian province, China. And our factory is located in Jujiang industry area,Nan'an city. We are a stone manufacturer specialized at producing granite & marble &basalt & slate &sandstone&quartz for 10 years.
We're engaged in high quality natural stone manufacturing and trading. Our products including granite, marble, countertop, paving stone, tiles, slabs, quartz, tombstone, mosaic, slate and basalt etc. We always exporting to Europe, Australia, America, Asia, South Africa and MID-east and highly enjoyed a good reputation.
We are particularly good at project orders for Hotel, Home, Public eara, Commercial Center,Holiday Inn, Comfort Suites, Residential mInterior Decoration etc.
We will pay great attention to your any question or enquiry. If any questions, please feel free to contact us at any time.
Tel: 86-592-7075015
Fax: 86-592-5706624
Cell Phone:86-13959256081
http://sunlightstone.en.made-in-china.com